Fanore National School - News
---
Congratulations!!
May 29th, 2019
Congratulations and well done to our pupils
on achieving
our 15th Award of Science & Maths Excellence!!
---
Coole Park Trip
May 23rd, 2019
Today we travelled to Coole Park.
Here we listened to a variety of different birds, looked at flowers and plants, spotted some deer, made smelly cocktails and listened to the history of Coole Park.
A great day was had by all!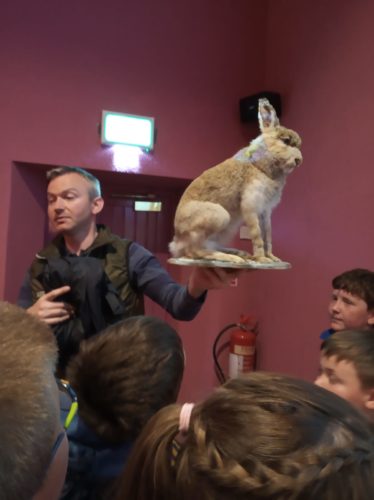 ---
Gymnastics Commence
May 16th, 2019
Today we commenced our first gymnastic lesson with Magda.
We will be having 6 lessons in total.
Great fun was had!
---
Marine Plastics
May 13th, 2019
Today we had Carmel Madigan visit us.
Carmel carried out a Marine Plastics lesson with the children in the senior room.
This was an extremely informative lesson and makes us all think about the plastics we use everyday.
We look forward to seeing Carmel again in a few weeks.
---
A Sad Farewell
May 10th, 2019
Today we said goodbye to one of our pupils.
We wish you every success in your new school.
---
First Holy Communion
May 5th, 2019
Congratulations to Oisin Clarke on making his First Holy Communion today.
---
Fire Safety Talk
May 3rd, 2019
Today we had two firemen visit us from Ennistymon Fire Station.
They spoke to all the children about fire safety in the home.
This was a very informative and educational talk for both pupils and teachers.
---
Hurling Blitz
May 2nd, 2019
Well done to our senior boys who participated in a hurling blitz in Corofin.
---
Sports Day
May 1st, 2019
Well done to all our children who participated in Sports Day in Kilfenora.
A great day was had!
---
Easter Holidays
April 12th, 2019
School will close on Friday 12th April for our Easter holidays.
School will reopen on Monday 29th April.
---