Fanore National School - News
---
Tie-Dye Fun
June 28th, 2022
The children in both rooms got their creative juices flowing one more time with our tie-dye activity today. There was lots of colour, mess and fun and some beautiful creations as you can see below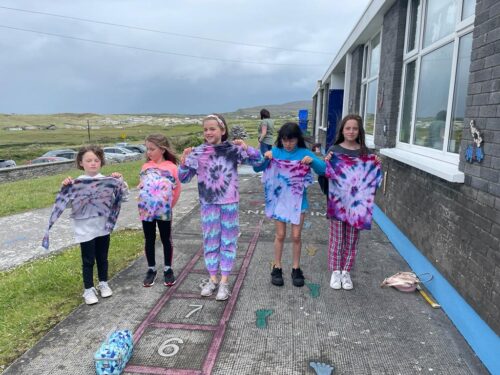 ---
Creative Day
June 26th, 2022
We celebrated the end of our involvement in the Creative Schools programme on Thursday with our creative/sports day. We had drumming, hip hop, crazy golf and sports day games with a BBQ to finish. Thank you to our parents for coming and being a part of our day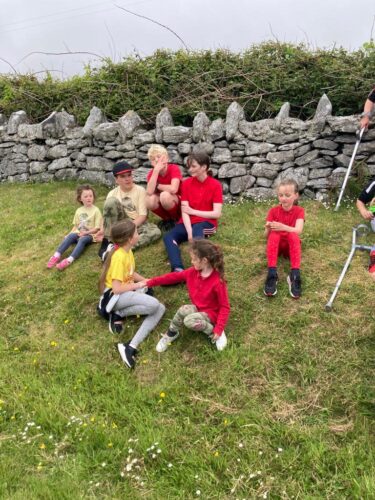 ---
Surfing
June 17th, 2022
This week saw us taking to the waves for some surfing workshops with Peter. Great fun was had by all. Thanks to Peter and Ale as always for facilitating this very fun end of year activity!
---
Cruinniú na nÓg
June 11th, 2022
Our video, Inspioráid na Boirne, documenting our Cruinniú na nÓg project for this year is now available to watch at the link below. We hope that you enjoy it!
---
Cruinniú na nÓg
June 10th, 2022
The children have been working with Katerina Gribkoff on the project for the past number of months, they have learnt how to make their own inks and dyes from plants and flowers, they have explored their own locality for inspiration and they have each produced a beautiful ink watercolour based on a Burren flower. The whole process has been documented in video with voiceovers by the children as well as poetry and song composed and performed by the children
Today we travelled to the Burren College of Art in Ballyvaughan to see our finished ink drawings on display and to present our documentary to our school parents.
As part of Cruinniú na nÓg, a day of free creativity for children, which takes place on June 11th, the paintings will be available to be viewed by the public on this date and the documentary will be available to view online on Creative Ireland Clare Facebook page and on the Clare library Youtube channel
---
Caherconnell Fort
June 1st, 2022
The children in the senior room have been working with Ms Coyle on their interpretation of Caherconnell Fort for the past number of weeks. In doing this they explored working with clay, papier maché, paint, and felting. The final wonderful model will be displayed in the Caherconnell Fort visitor centre this summer. Well done all!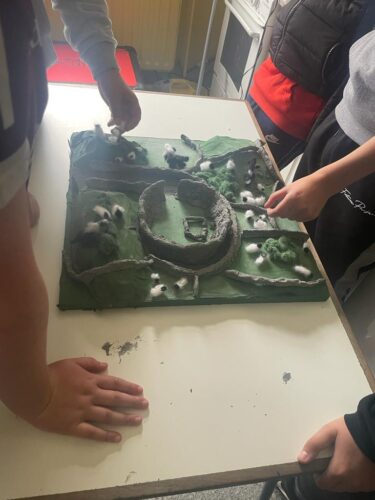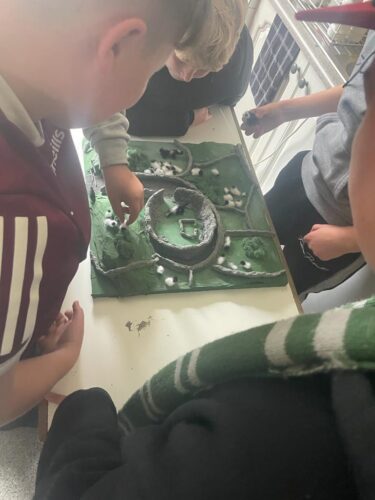 ---
School Garden
May 15th, 2022
The weather has been perfect for gardening and the children have been out and about planting and weeding. We have planted beans, salads and lots of vegetables and are looking forward to a bumper harvest. Thanks to our resident gardening expert Ale for always taking care of our garden and teaching the children so much about growing their own food
---
Creative Schools
March 29th, 2022
As part of our continued involvement in the Creative Schools Programme, today we had the first of a series of 3 workshops with Katerina Gribkoff. Katerina is a PhD student at the Burren College of Art and will be working with the children to create their own plant based dyes which will then be used to create paintings based on the Burren landscape and plants.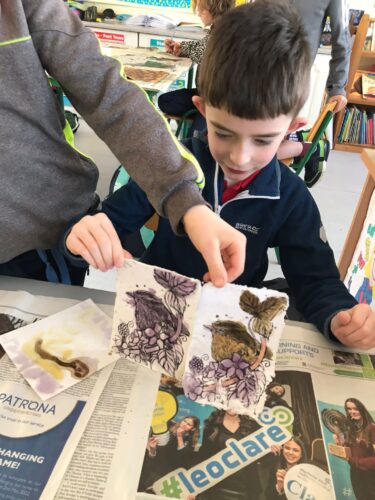 ---
Circus Skills
March 24th, 2022
We welcomed Stephen into the school today as part of our Creative Schools Programme to show us some of his tricks and even to teach us a few. Great fun was had by children….and teachers alike!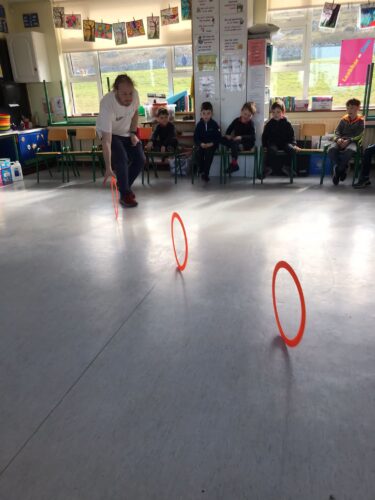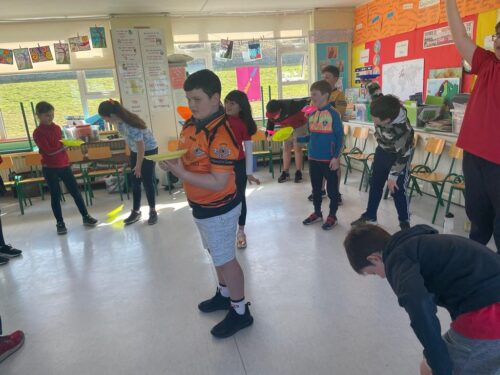 ---
Fanore St Patricks Day Parade
March 15th, 2022
Very well done to the children for coming out on a very cold March day to take part in the parade. Our theme was 'The Magic of the Sea' which was based on the film produced by the school last year. The children dressed up and sang and played for the spectators. Well done to everyone on a wonderful parade as always
---