Fanore National School - News
---
Dog Trust
September 27th, 2018
Today Aoife from Dog Trust came to visit us.
She talked with all the children about dog safety.
Here are the children doing the X factor!
---
Apple, Blackberry & Cinnamon Pie
September 25th, 2018
To celebrate Autumn, we went out picking blackberries.
Thereafter, the children in sixth class made a delicious pie from the blackberries and apples from a local orchard.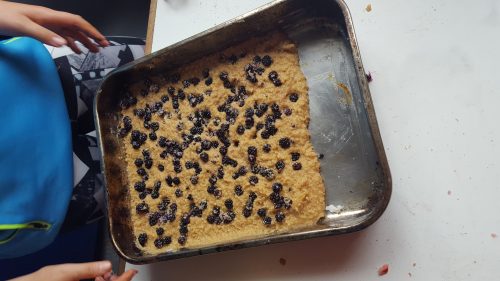 ---
Gordon D'Arcy
September 11th, 2018
Today we were fortunate to have Gordon D'arcy visit our school.
He carried out a drawing workshop with the children followed by a visit to the beach.
Here we explored the rock pools and found many things of interest!
Drawing session
Seashore Safari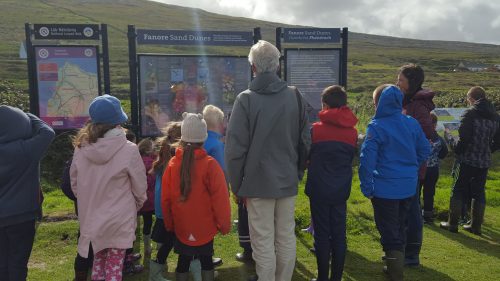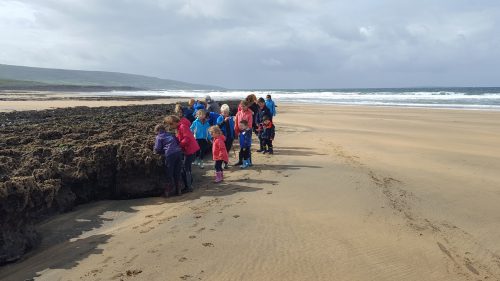 ---
Science Workshop
May 4th, 2018
Michael Browne visited the Senior room to conduct some experiments on heat. The children had great fun and the experiments allowed the children to challenge their perceptions and knowledge of heat.
---
Our Growing Garden
May 1st, 2018
The children planted spinach, carrots and peas with Ali. Some were planted in the garden and some the children could bring home. Children in the Junior room explored the different plants growing in the garden as part of science class.
Also many thanks to Jackie for building our beautiful raised bed for our strawberries. We planted them with and are looking forward to picking them already!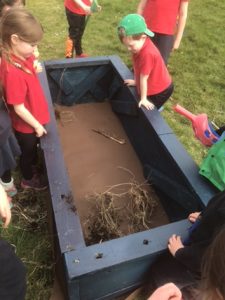 ---
Beach Safari
May 1st, 2018
As part of the Explorers Education Program, Carmel Madigan visited our school on the 23rd April to talk to the children all about Marine life. She returned a week later to bring the children on a beach safari. The children really enjoyed finding and collecting sea creatures and some won prizes for finding the most unusual marine life!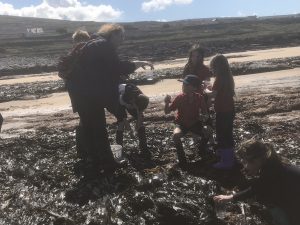 ---
Mother's Day
March 14th, 2018
For Mother's Day the children planted daffodils to give to their Mums.
---
Engineers week
February 28th, 2018
As part of Engineers week the children did many experiments and investigations. Here are some pictures of the children using their engineering skills to design a boat and build the tallest tower!
---
Science Workshop
December 14th, 2017
Today the children participated in a workshop with Michael Browne. The workshop was based on pulleys.
Firstly, the children had to make a single fixed pulley.
Secondly, the children had to make a single fixed movable pulley.
What a very enjoyable, educational and informative workshop!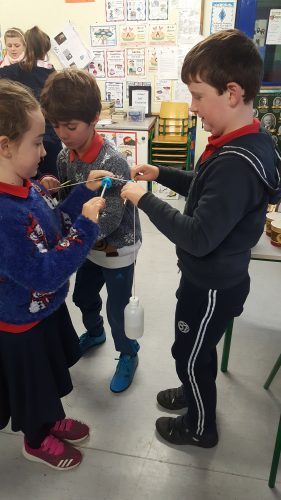 ---
Foliage Hunt
December 6th, 2017
Today the children went out hunting for foliage and wood.
It is hoped that these natural items will be turned into Christmas decorations.
---