Fanore National School - News
---
Visit from Minister Pat Breen
June 17th, 2019
Today we were delighted to receive a visit from Pat Breen!
Pat spoke to all the children and even invited all the senior children to Dublin to visit the Dáil!.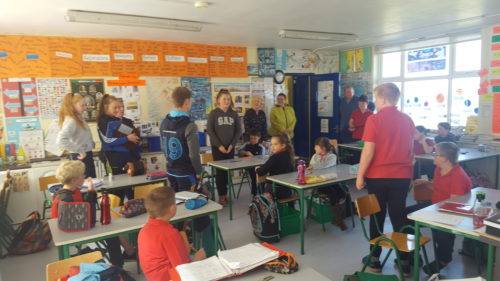 ---
Celebrating our 5 year participation Award
December 21st, 2016
We were fortunate to receive our 5 year participation award from the Blue Star programme.
2 schools in Clare have received this award, our school and Scoil na Maighdine Mhuire in Newmarket on Fergus.
On Friday 16th Dec, we travelled to Newmarket on Fergus to receive our award.
Minister Pat Breen presented us with our award.
---
Europe Day
June 9th, 2016
Today we celebrated Europe Day in our school.
Each child was assigned a country. A project was created on the country and a food from that country was made and displayed.
Following the presentation of the projects, everyone got to sample a range of sweet and savoury foods from the different EU countries.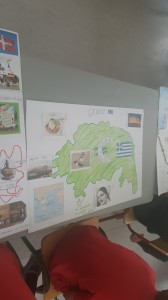 ---
A Stroll through Europe
June 12th, 2015
Today we held our Europe Day.
Each child had a project to present to all our parents. After the presentation of the projects, we sampled dishes from all of the EU countries.
Many thanks to all our parents who made dishes for today, they were simply delicious!!!
Presenting their projects
Some of the children's projects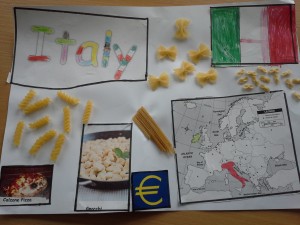 European Dishes
---
Europe Day
June 11th, 2015
Tomorrow we will be holding our Europe Day.
On this day, the children will present their projects and we will sample some European dishes!
---
Blue Star Programme 2014-2015
June 10th, 2015
Congratulations to all our pupils and teachers on achieving their 4th Blue Star Award for their continuous work on the EU.
Fantastic news!!!
---
Our European Projects
April 13th, 2015
---
Blue Star work
January 23rd, 2015
---
Blue Star Award
June 10th, 2014
We have just got word that we have received our 3rd Blue Star Award!!
Well done to all involved!
---
2nd Blue Star Award
June 25th, 2013
We have just received our 2nd Blue Star Award.
Well done to all our children!
---