Fanore National School - News
---
Christmas Jumper Run
December 22nd, 2021
Today was our final day in the school advent calendar so it had to be a double whammy! A half day and a Christmas Jumper run were revealed so the children took to the pitch for a colourful and fun run around the school. Well done everyone!
---
Mystery Guest
December 21st, 2021
The advent calendar for Tuesday revealed a "special visitor", none other than our own Mrs Queally. The children were thrilled to see her and update her on all that they have been doing since she left. We look forward to lots more visits from her in 2022
---
Craft Day
December 16th, 2021
Tuesdays advent calendar revealed Christmas crafting. The children in the senior room worked on 3D Christmas stars and candle holders, while the junior room made cribs  and festive Christmas cards. What a display of talent and creativity!
Some more arts and crafts from the children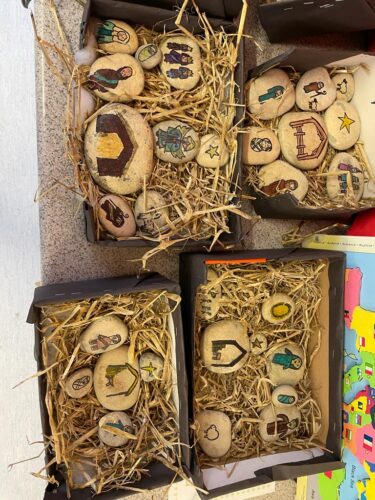 ---
Cookie decorating
December 16th, 2021
Thursday was jackpot day in the advent calendar with two exciting treats…no homework and best of all, Christmas cookie decoration…yum yum!!
---
Beach Clean
December 15th, 2021
Wednesdays advent calendar reveal saw both classes take to the beach for the last clean up of the year. The children collected lots of rubbish and got some fresh air and exercise in the process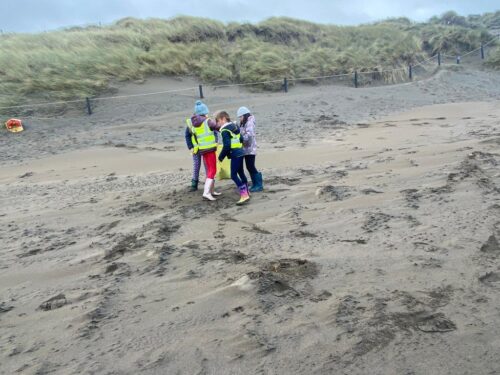 ---
Ukulele
December 9th, 2021
Today was a very exciting day in our advent calendar with the reveal of the start of our school ukulele lessons. The school has purchased 20 ukuleles under the Creative Schools programme and has enlisted Mark from the Music Generation Programme to run a 6 week programme. We look forward to performing for the parents when we have a few tunes under our belts
---
Christmas Book-Fest
December 9th, 2021
The junior room are celebrating the 12 days of Christmas Book-Fest this month. Each day the children choose a book for Miss Kavanagh to read aloud in class. There is always great excitement in the classroom to see what today's book might be
---
Advent
December 3rd, 2021
The school advent calendar arrived this week. So far we have had extra break time, games afternoon and rice krispie buns courtesy of Harry, Annie, Lily and Miranda….what will next week bring??
---