Fanore National School - News
---
Caherconnell Fort
June 1st, 2022
The children in the senior room have been working with Ms Coyle on their interpretation of Caherconnell Fort for the past number of weeks. In doing this they explored working with clay, papier maché, paint, and felting. The final wonderful model will be displayed in the Caherconnell Fort visitor centre this summer. Well done all!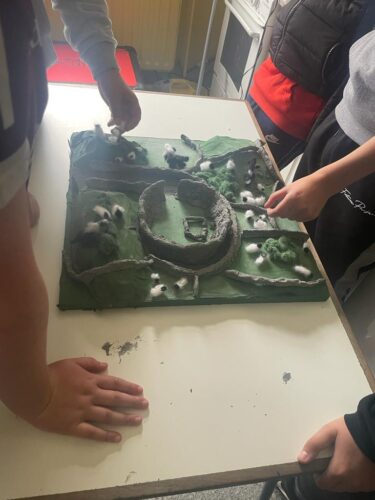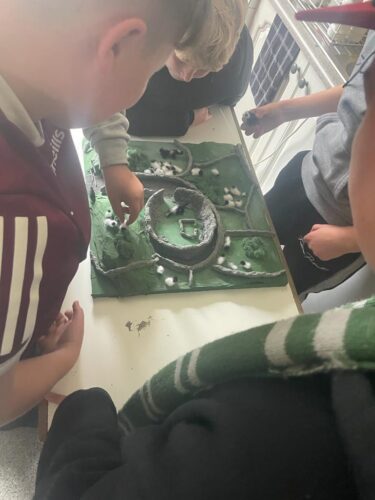 ---
Burren Marathon Challenge 2022
May 29th, 2022
Very well done to our students who took part in the Burren Marathon Challenge yesterday on a very sunny Saturday.  A big thank you is due to the event organisers, Ballyvaughan-Fanore Walking Club who kindly gifted vouchers allowing free entry to the race to all students and teachers in the school.
---
Projects
May 27th, 2022
The children of the big room have been studying The Great Famine for the past number of weeks. They are reading the novel Under the Hawthorn Tree in class and presented projects on The Famine this week.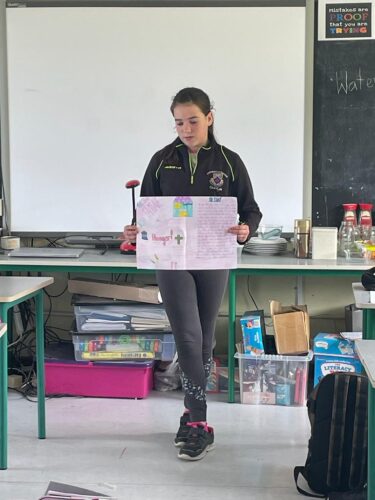 ---
Stem Activities
May 26th, 2022
Some excellent rockets from the junior room this week. Future engineers in the making!
---
Thank you Miss O Donohoe
May 18th, 2022
We have been very lucky to have had Miss O Donohoe with us for the past 10 weeks on her final teaching placement. She has been an integral part of our school since early March teaching, singing, playing and helping out with many different school occasions. We have learnt so much from her and had a lot of fun along the way. We wish her the very best in her future career and know that she is going to be amazing
---
First Communion 2022
May 16th, 2022
Big Congratulations to our first and second class children who received their First Holy Communion on Saturday. Huge work was put in by all the teachers and children in the school in preparation for this special day. They all looked beautiful and did the school and their families proud.
---
School Garden
May 15th, 2022
The weather has been perfect for gardening and the children have been out and about planting and weeding. We have planted beans, salads and lots of vegetables and are looking forward to a bumper harvest. Thanks to our resident gardening expert Ale for always taking care of our garden and teaching the children so much about growing their own food
---
House Cup
May 13th, 2022
Congratulations to Ravenclaw on winning the house cup today. Points were awarded throughout Miss O Donohoe's placement for correct homework and well done work in class, participation in class and overall good behaviour. Well done everyone!
---
Special Visitor
May 4th, 2022
The children in both rooms had a visit from one of our school parents, Nicola Kilroe, Advanced Paramedic with the National Ambulance Service. Nicola spoke to the children about her job and how they can help make it easier for her by knowing how to call for emergency services and and knowing their eircodes. We had a tour of her car, got to try out some of the equipment and even got to ring the siren. Thanks very much Nicola!
---
Beannachtaí na Cásca Oraibh!
April 8th, 2022
Happy Easter to all our school community.
Funky Easter Bunnies courtesy of the Junior room
Stations of the Cross have been hand drawn and painted by the children in the senior room. These will be on display in Fanore Church for the duration of Easter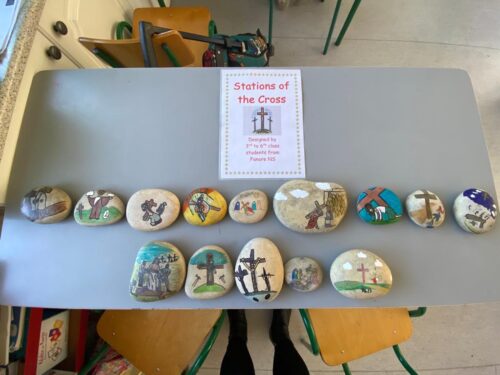 ---