Fanore National School - News
---
Chicken Time!!
June 14th, 2017
Many thanks to Christina who have given the children the opportunity to watch eggs hatch!
Only a few more days to go!!
---
Junior School Tour
June 9th, 2017
What a fantastic day was had today by the children in the junior room!
All children went to The Farmyard in Corofin. Here they met, petted and fed the animals!
Following this, they milked a cow, made butter and herded some sheep!
---
Senior School Tour
June 7th, 2017
Today the children in the senior room travelled to UL for an action packed day!
Swimming, canoeing, wrecking ball to name but a few activities!
---
Beach Awareness
June 6th, 2017
Today all children attended a beach awareness & safety talk by the Clare County Council.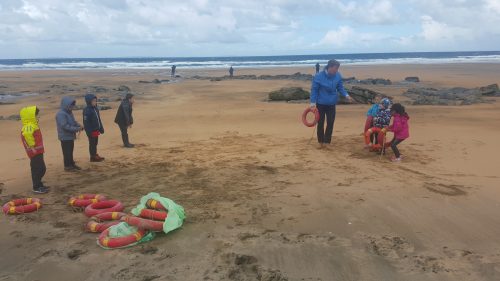 ---
Dog Trust Talk
June 1st, 2017
Today, we had a speaker from Dog Trust Ireland.
She spoke to the children about caring for dogs.
She also spoke to the children about dog safety and how to handle dogs carefully.
---
Fire Safety Talk
May 31st, 2017
Today we had a visit from two firemen from Ennistymon Fire Brigade.
They spoke to the senior children about fire safety and fire hazards around the house.
---
Eddie Lenihan
May 30th, 2017
Today we had a visit from Eddie Lenihan.
Eddie  is an Irish author, storyteller, lecturer and broadcaster.
He is one of the few practising seanchaithe remaining in Ireland.
Eddie told the children stories about fairies and magic!
---
Beach Safari
May 29th, 2017
On May 26th, all children went on a beach safari with the teachers and Brendan from the Galway Atlantaquarium.
The children sought out sea creatures in the rock pools, collected them with their nets, examined them and then returned them safely to their rock pools.
---
Craft Ed Programme 2017
May 19th, 2017
We were fortunate again this year to be successful in our application for the Craft Ed programme.
We commenced working with Jackie Maurer our local potter.
Our theme this year is Fairies. Each child will construct their very own fairy house.
---
First Holy Communion 2017
May 9th, 2017
Congratulations to Noelle Byrne, Tess Casey & Robyn Mele on receiving their First Holy Communion on Sunday.
---