Fanore National School - News
---
First Holy Communion
May 5th, 2019
Congratulations to Oisin Clarke on making his First Holy Communion today.
---
Fire Safety Talk
May 3rd, 2019
Today we had two firemen visit us from Ennistymon Fire Station.
They spoke to all the children about fire safety in the home.
This was a very informative and educational talk for both pupils and teachers.
---
Hurling Blitz
May 2nd, 2019
Well done to our senior boys who participated in a hurling blitz in Corofin.
---
Sports Day
May 1st, 2019
Well done to all our children who participated in Sports Day in Kilfenora.
A great day was had!
---
Easter Holidays
April 12th, 2019
School will close on Friday 12th April for our Easter holidays.
School will reopen on Monday 29th April.
---
Farewell!!
April 11th, 2019
Today we bid farewell to Edie and Oisin.
We wish you both all the very best!!
---
Funky Rabbits!
April 11th, 2019
Our Easter Bunnies .
---
Sow & Grow Time
April 11th, 2019
Today we planted our seeds.
We have cress, tomatoes, carrots and potatoes.
Fingers crossed all will grow!!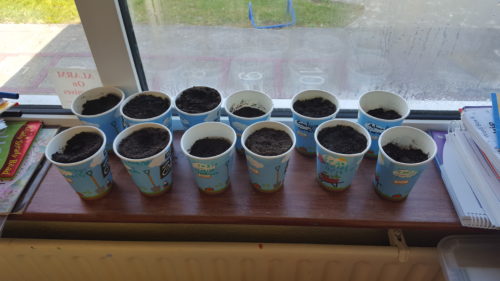 ---
Oral Language Projects
April 10th, 2019
Each month the children in the senior room complete a project on a chosen topic.
Thereafter, they present their projects to all the other children.
---
Final Swimming Lesson
April 3rd, 2019
Today is our final swimming lesson!
---