Fanore National School - News
---
Creative Schools
May 12th, 2022
We had our final session this week with Katerina Gribkoff from the Burren College of Art. During her time with us, we have learnt how to forage for plants and make dyes from them, we have looked to the plants and flowers growing around us for inspiration and we have created our own sketches, painted using these natural dyes. The final paintings, which can be seen below, will be exhibited as part of Cruinniú na nóg at the Burren College of Art on Saturday 11th of June.
---
Book Posters
April 27th, 2022
Some posters celebrating reading made by the senior room
---
1916 Easter Rising
April 6th, 2022
The children in the senior room have been learning about the 1916 Easter Rising this week
---
An Bosca Leabhalainne
February 11th, 2022
The school were delighted this week to be chosen to receive An Bosca Leabharlainne, a box of original Irish language books specially chosen by Laureat na nÓg, Áine Ní Ghlinn. An Bosca Leabharlainne is supported by Foras na Gaeilge and the Arts Council of Ireland and focusses on encouraging children to read as Gaeilge for pleasure. The books are beautifully written and illustrated and cater for a range of ages. We look forward to digging into some good books.
Leabhar = Cara
---
Beannachtaí Lá Fhéile Bríde!!
February 1st, 2022
Happy St Brigid's Day from the children of Fanore NS
---
Busy Classroom
January 26th, 2022
The junior room have been working very hard this week at their maths stations
The children also began procedural writing this week by learning how to make a jam sandwich. Naturally there was some taste-testing involved as well….yum yum😋
---
Christmas Holidays
December 22nd, 2021
Best wishes for a happy and peaceful Christmas and new year. School will reopen on Thursday 6th January 2022
---
December Art
December 3rd, 2021
The children in the junior room are preparing for Christmas this week with their beautiful Advent wreaths
---
December 1st, 2021
As children from 3rd to 6th class are now required to wear masks in primary school, please see below as guide for parents and children in how to use face coverings
---
November Art
December 1st, 2021
Lots of winter-themed arts and crafts happening in both rooms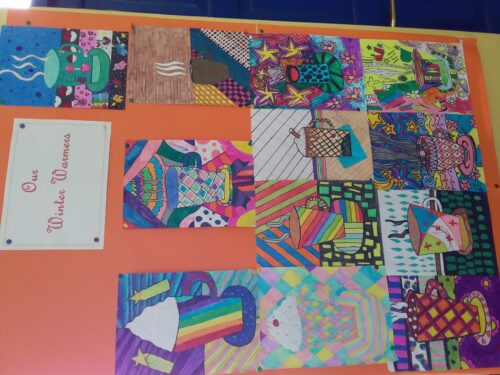 ---